---
A Well Trained Dog Has Friends

---
---
Personal Dog Training specializes in helping you address and resolve behavior, training and communication issues with your dog(s). Sessions start at your home and advance into your neighborhood, the car, dog park. wherever your goals and/or issues take us. Jump start board and train options are also available. We work with all behavioral issues and breeds. Contact us today to discuss your situation at no charge.

Common behaviors addressed include dog and human aggression, running away, leash pulling, nipping, food or object possession, jumping and over- excitement, potty training, anxiety and fear, phobias and obsessive behavior, basic command and off-leash reliability, respect of boundaries and excessive barking.

Get the latest news and updates at our Facebook page and Youtube channel
---
Our Programs
All engagements begin with an initial session so we can get to know each other and begin the hands-on process of working together with your dog. This allows you to get comfortable with us before choosing a program and helps us to provide you with a realistic recommendation on which program will best help you reach your goals. All programs are customized to address your issues. Additional per session fees apply for travel distances further than 15 miles from Personal Dog Training, Inc. corporate office.

Basic
The Basic program will help you to achieve a relaxing walk with no pulling, teach your dog to respond reliably to your verbal commands, stop jumping, limit excitement, address nipping and attain reliable potty training. Basics of dog behavior included. Great for small puppies and people with minor issues and/or goals.
Detailed, Customized Homework Reviews, Unlimited Phone and Email Support
3-1 Hour Private Sessions at (Clients Home Only)

Next Level
The Next Level Program will help you achieve a higher level of communication and handling skills with you dog. Walking and exposure out in real world situations, proper introduction to/socialization with other dogs and basic commands are just a few of the things we will work on together. Basics and advanced dog behavior concepts included
Detailed, Customized Homework Reviews, Unlimited Phone and E-mail Support
5-1 Hour Private Sessions at (3Clients Home 2Field Trip Option)

No Limits
Does your dog have extreme behavior issues in need of a behavior expert? Do you want to work toward general therapy dog certification or be able to go to the dog park without incident? Do you want to see how far you can go with your dog? If so the No Limits program is for you. The No Limits Program is designed for dogs with human or dog aggression issues, multiple dog homes, dogs exhibiting fearful behavior or for people who have off leash or therapy dog goals.
Detailed, Customized Homework Reviews, Unlimited Phone and E-mail Support
7-1 Hour Private Session at (Clients Home/Multiple Field Trips)

Off Leah Training Program
​This package is designed to help you reach your goal of off leash reliability. Call for detail and pricing and let us show you what our clients can do. The full package includes all necessary tools and training specific field trips.

Refresher Package/Board and Train
Feeling like you need more training or could have taken it further? Maybe you have new goals?
​Refresher packages are available for past or existing client only. Contact us today to discuss options.
Board and train jump start option now available after initial private session Fill out the form below and we will get back to you.


---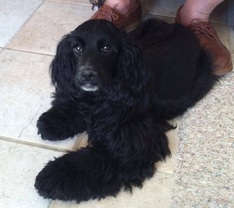 "Our experience with Greg has been wonderful. We rescued a 6 month old cocker spaniel, Ryder, and from the moment Greg worked with him, he understood what to do. We've had other dogs and other trainers, but Greg takes a different approach: he enables owners to communicate effectively with their pets. Ryder is now eight months old, obedient, affectionate, secure, and happy (happy is the best!). If you want a trainer who is knowledgeable, patient and truly understands how dogs think, Greg is your man."

Patricia Dean



---
---
---